There will be a Beagle-burger picnic to remember Sheila!
 
The GFDTC would like to invite you to a potluck picnic in memory and in honor of Sheila Eastman. Sheila was a beloved, long time member of ECKC & GFDTC and was also a member of the Russell Country Dog Training, a UKC Dog club, when it was active.  Sheila was a hard working, valuable member to all of the dog clubs and a very good friend to many. 
Bring your own chair and beverages.  There is a sheet attached so that each person can sign up to bring a specific item.  If you think of something that is needed that is not on the sheet feel free to add it.  If you are not sure about inputting your own or do not do this techy stuff, let Deana know at 406-750-8940.  Come prepared to have fun!  If anyone would like to organize a dog activity to go with the picnic that would be great!
When August 12th starting at 2:00 pm
Directions:
Giant Springs State Parks is located off Interstate 15, take Central Avenue (Exit 280). Proceed east on Central Avenue and turn left on River Drive immediately after crossing the Missouri River. Continue on River Drive 3.5 miles. Turn left onto Giant Springs Rd. Giant Springs State Park is located approximately 1 mile ahead, on the left.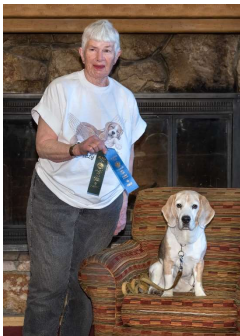 Promoting Purebred Dogs since 1957
The Electric City Kennel Club (ECKC) is affiliated with the American Kennel Club. The goals of the ECKC are to promote not only the purebred dog, but also mixed breeds known as The All American Dog, and to provide information and leadership in the entire dog community.

The Electric City Kennel Club promotes the dog fancy by providing an informational forum for breeders and owners of purebred dogs, and the community of  "All American"  dog owners.  Members enjoy the opportunity to learn and grow with others who share similar interests. The Electric City Kennel Club also sponsors an annual AKC All Breed Conformatiion Show, Obedience and Rally Trials. 

In an effort to promote education and responsible dog ownership, the ECKC offers several events throughout the year such as Fast Cat, Scent Work, Farm Dog, Temperament Test, Trick Dog, and Canaine Good Citizen Test, in addition to heart and eye clinics. Several of our members and tneir canine companions participate in Therapy Dog work throughout the Great Falls Community.   Check our events and training schedules for more information.

The Electric City Kennel Club (ECKC) is pleased to extend an invitation to you to become a member of our organization. When you join ECKC, you become a member of an American Kennel Club All Breed organization with similar clubs all over the United States. Members come from all walks of life; however, the values of friendship and our interest in the advancement of all breeds of  dogs are the principles that bring us together.

In addition to our annual Dog Show in Great Falls, the ECKC sponsors seminars with nationally recognized experts in handling, breeding, etc.  ECKC sponsors health clinics to provide OFA heart and eye screenings by board certified veterinarians from out-of-state and other health specialists. This, in particular, is a valuable service to our members, considering the fact that at this time Montana does not have any in-state board certified veterinarians in these fields.

Upcoming events :

ECKC membership meetings are on second Wednesday of every month, unless otherwise announced, at 6:30 pm 3rd Floor Seminar Room, Ursuline Centre, 2300 Central Ave, Great Falls, MT
You are visitor number: 20724