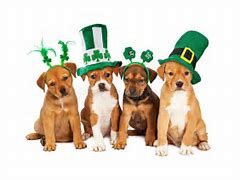 The Electric City Kennel Club
invites members and friends to participate with their dogs in
Great Falls Annual St Patrick's Day Parade,  
March 17th , 2022 4:00 p.m.
If you are interested in joining us, we will be forming up NLT 3:30 pm,  with the Parade Participants along 1st St South, by the Civic Center.  The Parade route will be down 1st Ave No for about 7 blocks.
Reminder: All dogs must be on-leash  
St. Patrick's Day Parade 2022